Introducing the Cool Jazz Cruise. A wonderful 8 day Cruise visiting some of the best island destinations in the Caribbean with some exciting events taking place. Come and enjoy this off season, winter fall escape cruise traveling on Carnival Cruise line, deporting from Miami Aug 6, and travel to the beautiful islands of San Juan,Puerto Rico, Dominican Republic St. Thomas,Virgin Island, Grand Turk.
Be prepared from a host of elegant events including, ballroom dancing, line dancing, themed nights, and themed partys.
This is definitly a cruise you should consider!
When is Cool Jazz Cruise 2016
August 6 to August 13, 2016
Where is Cool Jazz Cruise
Where to Stay for Cool Jazz Cruise
More Port Canaveral hotels and Hotel Reveiws!
What to Expect at Cool Jazz Cruise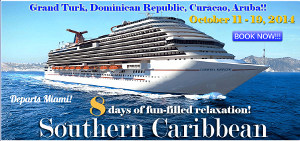 Activities
Prices:
From $1,381.11.(pp) to $2,615.08(pp)
Ship: All New Carnival Breeze!
Itinerary
What Need to Attend Cool Jazz Cruise
More Info and Cool Jazz Cruise links