The Capital jazz super cruise is an event held each and every year. It is attended by over 3000 music lovers , and about 40 performing musicians in a period of 7 days. The super cruise takes place in a cruise ship which sails to different ports that are endowed by beautiful sceneries. Not only does super cruise have high quality music there is also comedy, gospel music and even more. SuperCruise is in a class by itself. It's a music-lover's paradise, featuring a diverse lineup of jazz and soul music from the old-school and the new...plus comedy, gospel, funk, and more! There'll be concerts, parties, jam sessions, workshops, dance classes, games, shore excursions, and much more than you can possibly do in one week. So start packing your bags and get ready for the musical experience of a lifetime!
When is Capital Jazz Super Cruise 2015
Oct 24 to Nov 5, 2015
Where is Capital Jazz Super Cruise
Where to Stay for Capital Jazz Super Cruise
More San Juan hotels and Hotel Reveiws!
What to Expect at Capital Jazz Super Cruise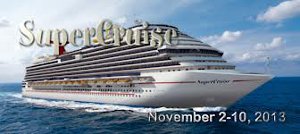 There are numerous activities that take place during the cruise.
Itenerary of events:
TBA
Places to visit on the cruise:
The Carnival freedom ship will traverse four different ports. Place: Sailing from San Juan, Puerto Rico to Barbados, Martinique, Grenada, Tobago. The journey will start in San Juan and finally end in the same place after the 7 days. You will have an experience of a life time.
What Need to Attend Capital Jazz Super Cruise
More Info and Capital Jazz Super Cruise links